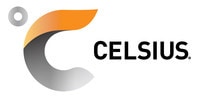 Celsius Strengthens East Coast Footprint, Added to 1,000 Food Lion Stores and Authorized in Hannafords Grocery Stores
BOCA RATON, FL, March 29, 2018 – Celsius Holdings, Inc. (Nasdaq: CELH), maker of the leading global fitness drink, CELSIUS®, today announced its entry into the drug store channel with distribution of its Originals line at over 550 CVS stores nationwide. CVS will carry three flavors including Sparkling Orange, Sparkling Watermelon and Non-Carbonated Raspberry Acai Green Tea. Notably, CELSIUS® will be positioned in the front checkout lane coolers, a strategic, high-visibility placement where consumers can grab and go with a single-serve when entering the store or while checking out. CELSIUS®' entrance into the drug store channel is yet another milestone for the fast-growing brand.
"Through CVS, the brand will reach a vast, new audience of health minded consumers, and its prime placement at the front checkout lane coolers makes it possible to introduce new consumers to the CELSIUS® brand, a great tasting, functional fitness drink that provides a source of healthy energy. CELSIUS® aligns with CVS's commitment to helping people maintain their health," said John Fieldly, Chief Financial Officer and Interim CEO. "Based on our mounting successes and continued growth, we know CELSIUS® will attract a health minded consumer and create an offering CVS can be proud to have in their cold coolers. We remain excited for the opportunity to further penetrate their total network of over 9,600 locations."
In addition to securing prime placement with its initial entry into the drug store channel, CELSIUS® accelerated its momentum in the traditional retail setting with its expansion in two banners of the global food retailer, Ahold Delhaize: Food Lion and Hannaford. Food Lion is the dominant grocery chain in the South Atlantic, Georgia, and the Mid-Atlantic, with 1,100 stores, and Hannaford has 189 stores in five states throughout New England. Ahold Delhaize operates in 23 states from Georgia to Maine and also includes Stop & Shop, Giant Landover, Giant Martins and e-tailer, Peapod.
"CELSIUS®' national expansion into CVS is perfect timing for our growing brand presence, as we recently became the Tough Mudder Presenting Sponsor for the 2018 North America series." said Vanessa Walker, Executive Vice President, Marketing and Innovation. "We're excited because these new retail placements provide CELSIUS® fans an opportunity to purchase the brand in their local community. We plan to do our part driving foot traffic to our retail partners, as the three million strong "Tough Mudder Nation", will be patrons of stores where they can buy their favorite CELSIUS® flavors. Retailers will have access to millennial, and healthy lifestyle consumers, as brands such as CELSIUS® have experiential marketing presence at large scale events, such as Tough Mudder, present in thirty five cities. This drives awareness, and in our case, education about the 'Fitness Drinks' segment, which we are pioneering to meet today's consumer demands."
CELSIUS® is a fitness drink which is proven to function, and provide healthy energy. The proprietary, thermogenic MetaPlus® formula, accelerates metabolism and, burns body fat and calories, when combined with exercise. CELSIUS® contains no sugar, no high-fructose corn syrup, no aspartame, no preservatives, no artificial flavors or colors, no gluten, is vegan and very low in sodium. CELSIUS® is sold nationwide at retailers across all channels, including grocery, convenience, gyms, military and
e-commerce websites.
About Celsius Holdings, Inc.
Celsius Holdings, Inc. (Nasdaq: CELH), founded in April 2004, is a global company with a proprietary, clinically proven formula for its brand CELSIUS®. Celsius Holdings, Inc. has a corporate mission to become the global leader of a branded portfolio consisting of proprietary, clinically proven innovations which offer significant health benefits.
CELSIUS®' Original Line comes in seven delicious sparkling and non-carbonated flavors in sleek 12oz cans and is also available in single-serve powder packets. The CELSIUS® Natural Line is available in six refreshing flavors: three sparkling and three non-carbonated. This line is naturally caffeinated and naturally sweetened.
Celsius' trainer-grade CELSIUS HEAT™ offers an additional 100mg of caffeine over CELSIUS®, to total 300mg per can, and also contains 2,000mg of L-citrulline, a vasodilator. CELSIUS HEAT™ is sold in 16oz cans and is available in seven carbonated flavors: Inferno Punch, Cherry Lime, Blueberry Pomegranate, Strawberry Dragonfruit, Tangerine Grapefruit, Apple Jack'd and Orangesicle. CELSIUS HEAT™ is a thermogenic pre-workout drink and targets professional trainers, competitive athletes, the military and first responders. CELSIUS HEAT™ was developed for those seeking a trainer-grade version of CELSIUS® as compared to the Original Line, which is sold in a smaller can package and appeals to the masses as an active lifestyle brand.
CELSIUS® is sold nationally at fitness clubs, 7-Eleven, Sprouts, The Fresh Market and key regional retailers such as HEB, Publix, Winn-Dixie, Harris Teeter, Shaw's and available on Amazon.com.
CELSIUS®' functional claims are backed by six published university studies. The first study was conducted in 2005 and additional studies from the University of Oklahoma were conducted over the next five years. The studies were published in peer-reviewed journals and validate the unique benefits that CELSIUS® provides. For more information, please visit the brand websites: www.celsius.com, www.celsiusheat.com, and investor site www.celsiusholdingsinc.com.
Investor Relations:
Cameron Donahue
(651) 653-1854
cameron@haydenir.com