FOR IMMEDIATE RELEASE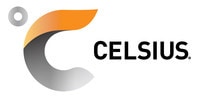 Celsius Holdings Doubles Quarterly Revenue to $12.1 Million, Up 101% Year-over-Q1 2017
Growth Accelerates, Portfolio Expansion, and Distribution Gains in Robust Asia Market
Boca Raton, FL (May 10, 2018) – (Nasdaq: CELH) Celsius Holdings Inc. (the "Company" or "Celsius"), maker of the leading global fitness drink, CELSIUS®, today reported financial results for the 2018 first quarter ended March 31, 2018.
2018 First Quarter Highlights:
Revenue of $12.1 million, up 101% compared to $6.0 million in 2017

North American revenue increased 69% to $8.1 million, up from $4.8 million in 2017

Driven by continued strong double-digit growth in all channels of trade

European revenue increased 118% to $2.5 million, up from $1.2 million in 2017

Driven by expansion and launch of a BCAA Recovery Drink line extension

Asian expansion delivers initial revenues totaling $1.4 million

Driven by launch initiatives expanding to over 13,000 locations in China

Gross profit of $4.8 million increased 100% from $2.4 million in Q1 2017

Gross profit margins total 39.5% (48.9% excluding outbound freight)

Net loss to common shareholders of $3.0 million compared to a net loss to common shareholders of $2.0 million in the Q1 2017; mainly as a result of $2.2 million expended in new Asia expansion initiatives
Non-GAAP Adjusted EBITDA* excluding one-time charges totaled a net loss of $2.0 million, inclusive of $2.2 million of net investments related to the Company's product launch in China, compared to a loss of $322,000 in the prior year period. Excluding China investments, Celsius delivered a positive first quarter 2018 adjusted EBITDA of $161,000
Other Highlights
Appointed John Fieldly to the role of Chief Executive Officer and interim Chief Financial Officer
Entered China market and expanded distribution to over 13,000 locations with regional distribution through partnership with Qifeng Food Technology (Beijing) Co. Ltd., a national wholesale distributor of foods and beverages
Expanded product distribution to Finland and Sweden with New Branched-Chain Amino Acid (BCAA) Recovery Line extension
Expanded product distribution to Norway with Original Flagship Line
Expanded CELSIUS® product distribution in the U.S. Drug Store Channel with Prime Placement at CVS and continued expansion in traditional retail by securing two divisions of global conglomerate, Ahold Delhaize, adding over 1,500 locations of availability in Food Lion and Hannaford banners
Extended its Original Flagship CELSIUS® product line with a delicious sparkling Kiwi Guava flavor
Expanded distribution of CELSIUS HEAT™, the Company's new trainer-grade line of fitness drinks, into convenience channel and gained Nationwide Placement Authorization at convenience retailer 7-Eleven under the retailer's "First, Best, and Only" program
Extended its CELSIUS HEAT™ Trainer-Grade Pre-Workout product line with two unique new flavors, Apple Jack'd and Orangesicle
Named to the 2018 Beverage Stock Watch List as one of the "Top Beverage Companies for 2018" by Institutional Analysts, Inc. (IA), an independent investment research firm
CELSIUS HEAT™ brand named "Best Packaging/Label Design" at the InnoBev Global Beverage Congress Awards held by Zenith Global, in Prague, Czech Republic
"Our strategy of positioning Celsius as the global beverage leader for health-minded consumers remains our top priority and is continuing to take hold as we further extended our brand and broadened our distribution to penetrate new markets and grow our business in the first quarter," said John Fieldly, President and Chief Executive Officer. "We are achieving success on multiple levels highlighted financially by a two-fold increase in quarterly revenue and operationally by the flawless launches of new products in foreign markets and further expansion with new and existing retailers in domestic markets."
"Distribution momentum continued to accelerate at the start of 2018 with significant placements of our portfolio of CELSIUS®-branded products," continued Fieldly. "We entered the drug store channel with the distribution of three flavors of our Originals line at over 550 CVS stores nationwide during the first quarter. CVS and the channel as a whole represent a significant market opportunity as drug store retailers ramp up their efforts to better serve consumers' increased focus on holistic health and wellness with the addition of healthier food and beverage offerings. With prime placement at the front checkout lane coolers, we expect our brand will reach a vast, new audience of consumers through the CVS channel to drive increased sales volume."
Fieldly added, "In addition, by leveraging our success and existing footprint in the Nordic region, we successfully began distribution of product in Norway and introduced our new and innovative branch-chained amino acids (BCAA) drink to the Finland and Sweden markets, significantly expanding distribution and availability for consumers."
"Industry awards and accolades extend from the product itself to the compelling packaging we use to attract consumers," Fieldly concluded. "Most recently, our CELSIUS HEAT™ product line was selected from more than 100 entries from around the world as "Best Packaging/Label Design" at the 2018 InnoBev Global Soft Drinks Awards for its standout packaging and label design. The packaging, which was designed by our highly creative in-house innovation team, appropriately positions our brand in the fitness and energy drink category and differentiates our products from other brands in the category."
Three Months Ended March 31, 2018 Compared to Three Months Ended March 31, 2017
Revenue
For the three months ended March 31, 2018, revenue was approximately $12.1 million, an increase of $6.1 million or 101% from $6.00 million for same period in the prior year. The revenue increase of 101% was attributable in large part to blended growth rates of 69% growth in North American revenues primarily attributable to double digit growth in existing accounts and new distribution expansion. European sales achieved 118% growth mainly as a result of the launch of a BCAA Celsius line extension in Northern Europe and in Asia revenues grew 100% mainly as a result of our initial product line launch in China. The increase in revenue from the 2017 period to the 2018 period was primarily attributable to an increase in sales volume, as opposed to increases in product pricing.
Gross profit
Gross profit was $4.8 million, or 39.5% of revenue, in the three months ended March 31, 2018 compared to $2.4 million, or 39.7% of revenue, for the same period in 2017.
Total Operating Expense
Sales and marketing expenses for the three months ended March 31, 2018 were approximately $5.6 million, an increase of $3.5 million or 160% from $2.2 million in the same period in 2017. The increase is due primarily to increases in investments in human resources and increases in marketing programs in Asia (including initial launch of our products in China) totaling $2.4 million and increased investments in North American marketing programs.
General and administrative expenses for the three months ended March 31, 2018 were approximately $2.00 million, a decrease of $0.06 million, or 2.9%, from $2.06 million for the three months ended March 31, 2017. The decrease was primarily due to savings in human resources associated with a $423,000 CEO retirement compensation payment paid in 2017, which was offset by investments in human resources of $226,000, increases in insurance cost $30,000, increases in professional fees $76,000, increased investments in research and development costs $50,000, increases in depreciation expense $4,000, offset by savings in option expense of $11,000.
Total other expense decreased to approximately $38,000 for the three months ended March 31, 2018, from $48,000 for the same period in 2017, as a result of savings in interest expense.
Net Income (Loss)
As a result of the above, for the three months ended March 31, 2018, Celsius had a net loss of $2.9 million, and after giving effect to preferred stock dividends of $83,000, a net loss available to common stockholders of $3.0 million or ($0.06) per basic and diluted share based on a weighted average of 47,449,553 shares outstanding. In comparison, for the three months ended March 31, 2017, the company had a net loss of $1.9 million, and after giving effect to preferred stock dividends of $90,000, a net loss available to common stockholders of $2.0 million or ($0.05) per basic and diluted share based on a weighted average of 41,783,853 shares outstanding.
Liquidity and Capital Resources
As of March 31, 2018, the company had cash of $10.0 million compared to $14.2 million as of December 31, 2017. The company had working capital of $18.5 million as of March 31, 2018 compared to $20.6 million as of December 31, 2017.
Cash used in operations during the three months ended March 31, 2018 totaled $4.3 million. The company incurred a net loss of $3.0 million during the three months ended March 31, 2018, increasing the accumulated deficit to $64.9 million as of March 31, 2018
Conference Call
Management will host a conference call today, Thursday, May 10, 2018 at 4:30 pm ET to discuss the results with the investment community.
To participate in the conference call, please call one of the following telephone numbers at least 10 minutes before the start of the call:
U.S.: 877-709-8150
International: 201-689-8354
An audio replay of the call will be available on the Company's website at: https://www.celsiusholdingsinc.com/news/
Disclosures can be found on the Company's online disclosure portal at: https://www.celsiusholdingsinc.com/sec-filings/
About Celsius Holdings, Inc.
Celsius Holdings, Inc. (Nasdaq: CELH), founded in April, 2004, is a global company with a proprietary, clinically proven formula for its brand CELSIUS®. Celsius Holdings, Inc. has a corporate mission to become the global leader of a branded portfolio consisting of proprietary, clinically proven innovations which offer significant health benefits. CELSIUS®' Original Line comes in eight delicious sparkling and non-carbonated flavors in sleek 12oz cans and is also available in single-serve powdered packets. CELSIUS®' Natural Line is available in six refreshing flavors and the line is naturally caffeinated and naturally sweetened.
New to the portfolio, trainer-grade CELSIUS HEAT™ offers an additional 100mg of caffeine over CELSIUS®, to total 300mg per can, and also contains 2,000mg of L-citrulline, a vasodilator. CELSIUS HEAT™ is sold in 16oz cans and is available in seven carbonated flavors. CELSIUS HEAT™ is a thermogenic pre-workout drink and targets professional trainers, competitive athletes, the military and first responders. CELSIUS HEAT™ was developed for those seeking a trainer-grade version of CELSIUS® versus the Original Line, which is sold in a smaller can package and appeals to the masses as an active lifestyle brand.
CELSIUS® has zero sugar, no preservatives, no aspartame, no high fructose corn syrup, and is non-GMO, with no artificial flavors or colors. The CELSIUS® line of products is Certified Kosher and Vegan. CELSIUS® is also soy and gluten free and contains very little sodium. CELSIUS® is sold nationally at fitness clubs, 7-Eleven, Sprouts, The Fresh Market and key regional retailers such as HEB, Publix, Winn-Dixie, Harris Teeter, Shaw's, Food Lion, CVS and many others.
CELSIUS®' functional claims are backed by six published university studies. The first study was conducted in 2005 and additional studies from the University of Oklahoma were conducted over the next five years. The studies were published in peer-reviewed journals and validate the unique benefits that CELSIUS® provides. For more information, please visit www.celsiusholdingsinc.com.
Forward-Looking Statements
This press release may contain statements that are not historical facts and are considered forward-looking within the meaning of the Private Securities Litigation Reform Act of 1995. These forward-looking statements contain projections of Celsius Holdings' future results of operations and/or financial position, or state other forward-looking information. In some cases, you can identify these statements by forward-looking words such as "anticipate," "believe," "could," "estimate," "expect," "intend," "may," "should," "will," "would," or similar words. You should not rely on forward-looking statements since Celsius Holdings' actual results may differ materially from those indicated by forward-looking statements as a result of a number of important factors. These factors include, but are not limited to: general economic and business conditions; our business strategy for expanding our presence in our industry; anticipated trends in our financial condition and results of operation; the impact of competition and technology change; existing and future regulations affecting our business; and other risks and uncertainties discussed in the reports Celsius Holdings has filed previously with the Securities and Exchange Commission. Celsius Holdings does not intend to and undertakes no duty to update the information contained in this press release.
— Tables Follow —
*We report financial results in accordance with accounting principles generally accepted in the United States ("GAAP"), but believe that disclosure of adjusted EBITDA, a non-GAAP financial measure, may provide users with additional insights into operating performance.
Investor Relations:
Cameron Donahue
(651) 653-1854
cameron@haydenir.com