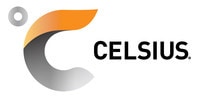 BOCA RATON, Fla., May 10, 2018 /PRNewswire/ — Celsius Holdings, Inc. (the "Company" or "Celsius") (Nasdaq: CELH), maker of the leading global fitness drink, CELSIUS®, today reported financial results for the 2018 first quarter ended March 31, 2018.
Please listen to the discussion of financial results on Thursday, May 10th, 2018.
Transcript
CELSIUS Holdings
Q1 2018 Earnings Call
May-10-2018
Confirmation #13679082
Operator: Greetings, and welcome to the CELSIUS Holdings Inc. Q1 2018 Earnings Call.
At this time, all participants are in a listen-only mode. A question-and-answer session will follow the formal presentation. If anyone should require operator assistance during the conference, please press star, zero on your telephone keypad. As a reminder, this conference is being recorded.
I would now like to turn the conference over to your host, Mr. Cameron Donahue from Hayden IR. Please go ahead.
Cameron Donahue: Thank you. Good afternoon, everyone. We appreciate you joining us today for CELSIUS Holdings' first question 2018 earnings conference call. Joining me on the call today are John Fieldly, Chief Executive Officer and Interim Chief Financial Officer, and Vanessa Walker, Executive Vice President of Marketing & Innovation.
Following the prepared comments, we will open the call to your questions, and instructions will be given at that time. We have filed our Annual Report with the SEC and issued a press release today. All materials are available on the company's website at celsiusholdingsinc.com under the Investor Relations section. As a reminder before I turn the call over to John, the audio replay will be available later today.
Please also be aware this call may contain forward-looking statements, which are based on forecasts, expectations and other information available to management as of today, May 10, 2018. These statements involve numerous risks and uncertainties, including many that are beyond the company's control. Except to the extent as required by applicable law, CELSIUS Holdings undertakes no obligations and disclaims any duty to update any of these forward-looking statements. We encourage you to review in full our Safe Harbor disclosures contained in today's press release and our quarterly filings with the SEC for additional information.
With that, I'd like to turn the call over to Chief Executive Officer John Fieldly for his prepared remarks. John?
John Fieldly: Thank you, Cameron.
Good afternoon, everyone, and thank you for joining us today. As a growing global brand, we are making significant progress in 2018. We're expanding our distribution channels and increasing product availability through existing channels to bring greater visibility for our portfolio, our premium fitness beverages, all while continuing to accelerate top line revenue. With innovative products and compelling packaging, we're reaching more and more consumers each and every day.
Our strategy of positioning CELSIUS, as a global beverage leader for health-minded consumers remains our top priority. We achieved a number of successes during the first quarter of 2018, including doubling revenue, all while maintaining our gross profit margins. We continue to leverage our supply chain to gain efficiencies and are maximizing our market investments.
In addition, we had a strong launches [sic] in the quarter of new products in multiple international markets and further expansion in new and existing retailers in North America. As the CELSIUS brand gains greater visibility globally, we continue to step up our efforts to meet the demands with the development of new products that we believe will continue to raise the bar and meet the demands for today's consumers.
In North America, we continue to build out our presence in traditional retail, recently expanding into two divisions of global food retailer Ahold Delhaize, securing availability in availability in Food Lion and Hannaford. Ahold Delhaize operates in 23 states from Georgia to Maine and also includes banners Stop & Shop, Giant Landover's and multiple other banners including an e-commerce presence. Food Lion, which is the dominant grocery chain in the South Atlantic and Mid-Atlantic regions, has more than 1,100 stores. And Hannaford has nearly 190 stores in five states throughout New England. The relationship is off to a solid start, and we have already restarted to receive reorders.
In addition to landing Ahold Delhaize in North America, we secured a huge win with the entry into the drug channel through giant retailer, giant CVS. Our original line will soon be available in three flavors initially. Sparkling orange, sparkling watermelon and non-carbonated raspberry acai green tea are going to be located in 550 CVS stores nationwide
Of importance is regarding the placement. Our products will have a high visibility in the front checkout coolers where consumers can grab a single-serve CELSIUS while they enter and while they're checking out.
Through this channel, our brand will reach a vast new audience of health-minded consumers. This is a great synergy between our great tasting fitness drinks and CVS' commitment to health and well being. We're confident our offerings will be successful with the initial placements and look forward to the opportunity to expand to their total network of over 9,600 locations.
The addition of CVS as a new channel partner follows on the heels of expansion, continued expansion in 7-Eleven with two of our new HEAT flavors, which are now available for purchase by franchisees and corporate 7-Eleven locations nationwide.
Our Strawberry Dragon Fruit flavors offer to 7-Eleven under the retailers first, best and only program, which allows the national retailer an opportunity to sell a flavor which is not yet available to other convenience retailers. This brings our full product line-up in the national planogram at 7-Eleven to SKUs planogrammed in the energy set, which is an amazing accomplishment and achievement by our sales organization and shows you demand of–for our products.
CELSIUS HEAT now has placement across more than 22 distribution centers nationally. Major distributors and wholesalers are stocking our second product line in our portfolio. So, convenience retailers will be able to purchase CELSIUS HEAT as well as our original line, creating an opportunity for synergy and efficiencies within the ranks of our sales team, allowing for our expanding portfolio to flow through our existing distribution networks into the current and new retail partner shelves. This additional placement of the CELSIUS HEAT line will add incremental and brings true innovation to the retailer's energy and functional product sets.
Rounding out our domestic achievements in the first quarter, we established a dedicated focused team to capitalize on vending opportunities as we launched a healthy vending initiative. To date, we are currently in over 2,500 vending machines with an identified opportunity for an additional placement of CELSIUS at over 18,000 locations. Based on initial expectations and success, we believe there will be a significant expansion throughout 2018 with our targeted team.
The North American sales team, led by Jon McKillop, our Senior Vice President of Sales, are setting the stage and capitalizing on the changes taking place in retail today as retailers are rapidly updating their shelves for healthier options for today's health-minded consumer.
In Europe, we are having phenomenal success, particularly in the Nordic region where we successfully began distribution of our products in Norway through our Nordic distribution partner, Qifeng Food. Expansion within the region leverages the operations of our existing distribution network as well as the brand equity already established in Sweden. We have plans to enter additional distribution channels, including online, specialty, convenience and grocery in the coming months as we continue to leverage our assets and resources.
In Finland and Sweden, we introduced our branch-chained amino acid BCAA drink, an extension to our core line that targets both high-performance athletes and fitness enthusiasts. The launch entails three flavors – Passionfruit, Wild Strawberry and a first for CELSIUS products, a decaffeinated Elderberry version of our brands.
Initial sales reports confirm we are off to a strong start with each of these initiatives. These initiatives–this innovative CELSIUS BCAA Recovery Drink is a perfect pairing to our proprietary meta-plus blend line, and together, the two are a three and post fitness solution for any consumer. And for the CELSIUS Holdings portfolio, this new edition furthers our mission to create science based, proprietary and innovative offerings.
In Asia, our investments in sales, marketing and distributions, particularly in China, are driving tremendous progress towards increasing reach to a broader audience of consumers and leveraging brand awareness. With China being one of the largest and fastest growing economies in the world, striking early in the region with an experienced in-country distributor like Qifeng Foods has been a key driver of our growth to date in country and creates a foundation for building our global brand with strong future financial performance.
Our initial area of focus in China has been Beijing, Guangzhou and Shenzhen with expansion in 35 cities across 14 provinces.
Since our initial local production in September of 2017, we have gained over 13,000 locations with approximately 7,000 key accounts, which include a variety of marquee retailers including FamilyMart, Metro, Lawson's, PetroChina, 7-Eleven and others. We are firmly committed to building on our success to further grow our brand and increase placements of our products in China, where initial feedback has shown great success.
CELSIUS branded products and our unique flavors have been recognized as innovative leaders in their respective beverage categories since our inception. With nearly two dozen global awards, the industry continues to recognize the value of our products and the impact we're having on the industry. These awards extend to the product itself and to its compelling packaging we used to attract consumers.
Most recently, our CELSIUS HEAT product line was selected for more than 100 entries from around the world for its Best Packaging and Label Design at the 2018 InnoBev Global Soft Drinks Awards. The packaging, which was designed by our highly creative in-house innovative team, appropriately positions our brand in the fitness and energy drink category and differentiates our products from other brands in the category.
In addition to reference to my recent appointment as CEO, I'm honored to lead this company. We're also currently in an active search for a CFO to join our team as our fiftieth member. We are a lean organization, capitalizing on today's health and wellness trends. We are building an innovative portfolio of products. Our brand is resonating with today's consumers and is gaining considerable momentum. Our future has never looked brighter.
I'll now turn the call over to Vanessa Walker, Executive Vice President of Marketing & Innovation, for her prepared remarks. Vanessa?
Vanessa Walker: Thanks, John.
And on behalf of the entire company, I'd like to congratulate you once again on being named Chief Executive Officer. We're looking forward to many exciting wins in the days ahead.
As John indicated, we continue to gain brand awareness among consumers who are veering away from sugary soda and traditional sugary energy globally. We have tremendous momentum, winning new retailer store shelves as we are out in front of the trends. With a proven functional beverage, we are capitalizing on the shift in consumer thinking regarding their own consumption trend as they evolve across the globe.
To begin the Q1 marketing recap, I'll mention, in April, we were recognized for becoming one of the top performing growth stocks within the beverage segment. We were named a top eight pick on the 2018 beverage stock watch list by Industry Analytics Inc., an independent investment research firm.
Our corporate marketing initiatives in March included participation in the ROTH Conference, held annually in Dana Point, California. This conference was a successful one as we met with many new potential investors and analysts who are interested in learning more about our organization.
Aside from a sampling booth for every passer-by, John was given the opportunity to speak to a room of conference attendees, and his 20 minute presentation was well received by the financially minded portfolio managers. We heard resoundingly greater brand awareness among this year's conference attendees, including personal stories of conversion to the brand, more so than any conference in recent memory. We will continue to attend these corporate marketing conferences, including the upcoming B. Riley event in Santa Monica, May 23 through the 24.
By way of press, we generated corporate news with several press releases in the first quarter, including our best received release, simultaneously announcing our expansion into CVS and also two divisions of global conglomerate, Ahold Delhaize, both Food Lion and Hannaford. This release generated over 83 million impressions for the company, including a pick up of analyst coverage by both Maxim and Ladenburg Thalmann.
Another release generating significant interest was the launch announcement of the newly created BCAA post workout recovery drink throughout the Nordic region. This line produced three flavors, one of which is the first decaffeinated CELSIUS, an Elderberry SKU. Following the strategic plan, the line extension launches first in the fitness channel, then phase two will roll out into the mass market in both Sweden and in Finland.
In addition to the incredible press pickup surrounding the brand expansions, the brand earned media coverage in trade publications with our achievement attaining National Presenting Sponsor status for the 2018 Tough Mudder series. The presenting sponsorship–we are further increasing brand awareness in North America, tapping into an extensive Mudder pan base. The Mudder Nation is more than 3 million strong and also focused on improving one's self through facing tough obstacle challenges.
The series, which includes 100 events in over 33 cities, is a U.S. partnership to date. However, the Tough Mudder organization is active in nine countries, so a potential expansion of this partnership is possible. The reaction to our joint partnership announcement was well received, given the nature of our mutual fitness target audiences, and the story was featured in several beverage publications franchises, including BevNET, Beverage Insights and Beverage Industry.
From a consumer standpoint, the Q1 launch of the Tough Mudder event series meant sampling activation in New Orleans, Sacramento, Phoenix and Miami. Flo Rida was on hand to emcee the start of the Miami events, opting also to participate in the obstacles, including the CELSIUS branded Mount Everest wall challenge climbing edition. Consumers were surprised as he spent the day on the course with the CELSIUS team, and the resulting publicity was explosive with over 6 million video views, shares and other forms of social engagement as well as print and TV news coverage on local and syndicated affiliates in several cities.
With the Tough Mudder activation beginning in Q1, the brand marketing team had their hands full. However, additional events allowing the brand to reach other audiences within the targeted demographics also took place. Some of the consumer event highlights were sponsorship of the annual South Beach Model Volleyball Tournament in Miami Beach and sampling runners at retailer Sprouts marathon in Oakland, California.
In addition to consumer events, the marketing initiatives at this stage in the brand's ACB penetration include heavy feeding at the trade level. This year Q1, the team attended multiple high profile industry franchisee selling and trade shows. And within the fitness channel, we debuted our trade show both at the well attended event The Arnold in Columbus, Ohio where estimates of crowds were reaching 70,000 for the weekend.
Side from sampling and selling at events and trade shows, we're reaffirming the product message concerning our position as a lifestyle fitness drink with consumers globally in both print and out of home media. Through all three areas, Europe, Asia and North America, there are synergies and best methods being identified to duplicate wins and transfer knowledge regarding brand ambassador programs, digital marking and other tactics designed to amplify the brand across all countries.
From an onsite perspective, marketing within the fitness channel has included heavy in-club demos with branded sampling programs for all lines, especially the newest two in both the U.S. and Sweden, and a recently created cooler and sensor program has helped place coolers in more than 100 high traffic locations in the U.S. alone, ensuring a cool can of CELSIUS is always available. Additional merchandising expansion techniques are planned by product line for every channel of trade.
Two new flavors of the CELSIUS HEAT line debuted at the Annual Arnold in Ohio. The flavors were passionately accepted by many Millennials who instantly took to Instagram to post can of our latest creations, Apple Jack'd and Orangesicle. These flavors round out the line to seven SKUs, which is significant as eight SKUs begets a single row across a cooler door in most standard sized cold placements in the fitness, club and drug channels.
Also in Q1, the launch of HEAT at retailer 7-Eleven, who will carry both the number one best seller Cherry Lime and the more recently added Strawberry Dragon Fruit, which as John mentioned earlier will be listed as a first, best and only feature item, giving the change SKU exclusivity for a period among their competitors in the convenience channel.
Both CELSIUS HEAT and the Nordic BCAA line extensions are similarly positioned to drive efficiencies within our selling organization and also through our distribution customers, capitalizing on gaining sales and share of shelf at end user customers. These adjacent offerings will allow a multiple transaction sale across several channels of trade. Following a best method for CELSIUS new item launches, both HEAT and the BCAA line launch in health and wellness channels. Then, having gained core consumer awareness, building better for you credibility and momentum in trade, the second launch phase occurs with expansion into the traditional or mass channels of trade.
With the first quarter behind us, the intro of the new SKUs and the preparations for Tough Mudder presenting sponsorships, we are full steam ahead focusing on the launch for major retailer CVS. Our digital team has been preparing as digital will be an important marketing tool, reaching widespread consumers shopping in the initial 500 CVS locations, which are spread throughout the U.S.
From a digital marketing standpoint, the China launch campaign included QR codes on every can, and data is being collected through We Check [sp], which gives us access to key consumer insights and provides an opportunity for future two-way conversations with these new CELSIUS consumers in China.
Bloggers and influencers will continue to be a key digital method of communication in all countries as we turn universal global trends regarding health and wellness into messages relating to our core consumers in their own language.
A look ahead for the Q2 initiative is the open application season for our brand ambassador or CELSIUS Lifer program. As with the Swedish business model, a critical factor for earlier success with the CELSIUS brand throughout Sweden was the recruitment and deployment of an army of brand ambassadors who lived a healthy, fit lifestyle. Following the Swedish best methods, a similarly designed program will begin in May throughout the U.S. This new Lifer program will be a large U.S. endeavor as key learnings have been shaped the way we will go about recruiting and on-boarding a team of passionate ambassadors throughout the nation. More to come on this initiative in the second quarter.
Additionally in the second quarter, we will discuss the launch of Kiwi Guava, our newest SKU, which has made it to shelf within the month of April. So, the second quarter story will be relayed in greater detail as Q2 unfolds. The Kiwi Guava SKU was created to target the newest group of fitness forward and health conscious individuals, the emerging Millennial Hispanics, who as a generation are changing the way the Hispanic household shops and considers food and nutrition.
With our eye ever on the Millennial consumer, which is the largest age group in population by numbers across the globe, we studied the recent ROSS [sp] survey of over 1,000 Millennials. The survey found the younger consumers make going to the gym a priority with most Millennial consumers stating they visit the gym two to three times per week, and also, they indicated they are likely to spend on quality, healthy foods and beverages as a much higher portion of their disposable income to those in the next closest age group. We are encouraged by their desire to spend on food and beverage and to allocate funds to spend against new flavors of their favorite brands.
Thank you. This concludes the marketing portion. I'm turning it back over to you, John.
John Fieldly: Thank you, Vanessa.
Total revenue for the first quarter of 2018 was a record 12.1 million compared to 6 million in the first quarter of 2017. The more than 100% increase was primarily attributable to increases in sales volume as opposed to increases in pricing, which remain consistent. By geography, North America sales were up 96% due to double-digit growth in existing accounts and new distribution expansion.
Sales also increased in Europe 118%, mainly as a result of the launch of our new BCA line extension mentioned earlier as well as timing and reorders in our core line in the Nordics. And in Asia, sales increased 100% due to the initial launch of our products in China.
Gross profit for the first quarter of 2018 increased by 2.4 million or 100% and in line with increases in revenue. Gross profits grew to 4.8 million, and gross profit margins for the period grew to 39.5% of revenues compared to 2.4 million or 39.7% of revenues for the corresponding period last year.
The improvement in gross profit was driven almost entirely by higher revenues and a diligent management of existing account, promotional allowances and managing cost of goods. The two basis point decrease in gross profit margin was mainly due to increases in new account promotional activities compared to the prior year.
Sales and marketing expenses for the three months ending March 31, 2018 were 5.6 million compared to 2.2 million for the three months ending March 31, 2017, an increase of 160%. This increase is due primarily to increases in investments in human resources and increased marketing programs in North America, as mentioned by the Vanessa, as well as the initial support to support the initial launch of our products in China.
General and administrative expenses for the three months ending March 31, 2018 were 2 million compared to 2.1 million for the three months ending March 31, 2017, a decrease of 3%. The decrease was primarily due to savings in human resources, which were offset by timing–also timing–one-time charges in the prior year as well as increases in insurance, professional fees and additional investments in research and development.
Net loss to common shareholders for the first quarter of 2018 was a loss of 3 million or $0.06 per share basic and diluted compared to a net loss of 2 million or $0.05 per share basic and diluted for the corresponding period last year. Net loss attributable to common stockholders is inclusive of preferred dividends.
For the three months ending March 31, 2018, the net loss included preferred dividends of 83,000 approximately. And the three months ending March 31, 2017, the net loss included preferred dividends of approximately 90,000. The savings in preferred dividends is associated with the conversion of our preferred D shares to common in the period.
Operating expenses for the first quarter included non-cash expense, including depreciation, amortization and stock-based compensation, which totaled 779,000 compared to 786,000 last year.
Adjusted EBITDA for the first quarter of 2018 excluding one-time charges was a negative 2 million compared to approximately 322,000 for the corresponding period in 2017, which is inclusive of 2.2 million of net investments related to the company's product launch in China.
Excluding net Asian market investments, CELSIUS delivered approximately $161,000 in first quarter 2018's positive adjusted EBITDA. We believe information containing adjusted EBITDA, a non-GAAP financial measure, enhances the overall understanding of our financial performance, and a reconciliation of our GAAP results to this non-GAAP measure has been included in our earnings release.
Turning to our balance sheet, as of March 31, 2018, the company had cash of approximately 10 million and working capital of approximately 18.5 million. This compares to 14.2 million in cash and 20.6 million working capital as of December 31, 2017. We believe our cash–current cash balance is sufficient to meet our anticipated cash needs through the next 12 months. Cash used in operations for the first three months of 2018 totaled 4.3 million compared to 861,000 used in the first three months of 2017.
We executed well during the first quarter, and we are building momentum and expanding our reach of products and creating a solid foundation for future growth.
That concludes our prepared remarks. Operator, you may open the call for questions.
Operator: Thank you. At this time, we will be conducting a question-and-answer session. If you would like to ask a question, please press star, one on your telephone keypad. A confirmation tone will indicate your line is in the question queue. You may press star, two if you would like to remove your question from the queue. For participants using speaker equipment, it may be necessary to pick up your handset before pressing the star keys. One moment please while we poll for questions.
Our first question comes from the line of Jeff Van Sinderen with B. Riley FDR. Please proceed with your question.
Jeff Van Sinderen: Hi, everyone. I want to say first congratulations on really strong growth in Q1, and, John, congratulations to you on your appointment as permanent CEO.
John Fieldly: Thank you, Jeff. Appreciate that. Really excited to continue to lead this organization and continue to deliver prudent results.
Jeff Van Sinderen: So, maybe we can start with I guess your latest sense on how sell-throughs have been trending in the U.S. And then maybe you can give us a little more what we should look for around the launch in CVS, which I think is starting this month if I heard you correctly, and then anything around the grocers that you also launched with, just as we're thinking about the P&L, if there was any of that in Q1 or if most of that's falling into Q2?
John Fieldly: Okay, great. Initial sell-through has been, as I mentioned in regards to–we're starting to receive and continue to receive a lot of Nielsen data, also getting some good data points coming from our existing customers. And all sell-through information that we are receiving is extremely positive. Some of the new business that we brought in in regards to Food Lion, we just recently got our sell-through data, which we've been in Food Lion now commencing almost three–over three months. The sell-through data continues to show good momentum.
The buyer is pleased with our initial movements, which continues to increase on a weekly basis. So, we are building a good consumer base, and we're seeing that in a lot of our existing accounts, and that is really reflected in our numbers where we continue to see strong double-digit growth rates in all channels of where we're operating.
In addition to CVS, we did receive a pipe order for the 550 stores. As you mentioned, it should be rolling out over really this month and over the next several weeks as we go through their supply chain. It is a direct account. And we are located in those premium locations, in those front end checkout cooler, so we're really excited about that opportunity. We do not have initial data points at this point coming from CVS, but we look forward to gaining those. We can share those, hopefully, next time on our call.
Jeff Van Sinderen: Okay, great. And then as far as HEAT and 7-Eleven, any update there on the new flavors how they are doing?
John Fieldly: Yeah, our two new flavors in 7-Eleven, we continue to get reorders from McClain [sp]. We have not received an updated scan data report from 7-Eleven, but based on the reorders we're receiving as well as we attended several FOH franchise trade shows throughout the quarter, as Vanessa indicated, and those shows were extremely successful on getting the brand out in front of the franchise owners. And from what we hear from the franchise owners, everyone is extremely pleased with our movement.
Jeff Van Sinderen: Okay, great. And then any data you can give us on the BCA launch in the Nordic countries – just wondering if we have any data there to speak to?
John Fieldly: It's a little premature at this point. We did have the initial orders. We have gone to our second production with those lines. We do have an actual planned review meeting with our partners coming up this month. We'll be able to get additional insight into the operations and some of the data points that they're seeing. But, initial feedback is positive. They're gaining shelf space and some great displays in the hyper market. So, they are very excited about the three new flavors.
Jeff Van Sinderen: Okay, great. And then turning to China, just wondering, I guess, what the key focus initiatives are there in the near-term or over, let's say, the next couple of quarters? You've gotten on the shelf there. What are kind of the next steps?
John Fieldly: Sure. We just commenced production, really when you look at it, in the fourth quarter. It was late September when we had that first local production. Q1 after coming out of Chinese New Year was really to continue to scale from the, really the traditional retail into key accounts, which we've been able to secure over 7,000 locations in key accounts. We look forward to continuing to penetrate those key accounts in those markets. We look forward to continually increasing that with the execution of Qifeng.
Initial feedback has been extremely positive on our take rates. The execution we are seeing–our placement is being placed right next to the Red Bull in the yellow can out of Thailand. So, the placement seems very strong and very good placement and execution by Qifeng sub-distributors. Vanessa and I will be traveling over there next month. We will be conducting our quarterly review meeting and look forward to further plans. But, initial feedback has been very positive as we enter really summer beverage season, which we're excited about. But, we are monitoring very closely the investments we're making in market.
Jeff Van Sinderen: Okay, great. All good to hear. Thanks for taking my question, and I'll let someone else jump in.
John Fieldly: Thank you, Jeff.
Operator: Our next question comes from the line of Anthony Vendetti with the Maxim Group. Please proceed with your question.
Anthony Vendetti: Thank you. Yeah, I would like to also echo the congratulations, John, on being named permanent CEO.
John Fieldly: Thank you very much, Anthony. Appreciate all your support.
Anthony Vendetti: And I just wanted to follow-up on two pretty large contracts. I know the CVS stores starting with 550–they have over 8,000 stores, if not more than that. Can you talk about how you see that opportunity evolving? And then just a follow-up question 7-Eleven.
John Fieldly: Sure, absolutely. CVS is a great opportunity for our brand, the health and wellness space, our product–we feel very confident our products will perform well with our initial flavors, our three flavors going in. 5,500 is the start. We look to go back–right after midsummer is when the reviews take place. And we look forward to further–gaining further distribution and expansion through CVS. We feel our product positioning is in line with CVS' health and wellness position, as well, and it's a very comparable product. And in addition to CVS, that really opens the opportunity for the whole drug channel, which is really the overall-arching opportunity we're going after. So, this is just the beginning. and we're just getting started in this channel.
Anthony Vendetti: Okay, great. And then 7-Eleven, you have two HEAT products in there. 7-Eleven–there's the corporate 7-Eleven that can give you an entrée or sort of like a hunting license. But, most of the 7-Elevens have the ability to determine what goes in their store. So, can you talk a little bit about the strategy of approaching that opportunity and how do you go about trying to penetrate the 7-Eleven opportunity in an expeditious manner other than going store to store?
John Fieldly: Yeah, no, it is a great opportunity for us. It is–has been a challenge for us over the last several years since we've been with them now for over three years. We're working very diligently to continue to expand. As the brand continues to build momentum and the marketing continues to take hold, it is making it easier for us to gain distribution as well as we've made this journey with them with their core really key franchisees and corporate support.
So, you'll see us in the Southeast where we have almost a 90% ACV in the Southeast, and we're seeing some of these other markets start to increase at an increasing rate. We're doing a variety of tactics, which include targeted teams. Our targeted teams will blitz markets. We also are supporting the FOA franchisee organization trade shows as well as their annual trade shows. And then we're also doing some targeted marketing initiatives to those locations.
So, it's a multi-level approach that it is that we continue to work on, and we still have a lot of work ahead of us. Overall, we're roughly around I think right around 50%, a little over 50% when you look at the total population of the 7-Eleven, so a lot of room to continue to build upon, and we are focused to continue to build upon this opportunity.
Anthony Vendetti: Okay. And then just a last question on China–I know you have a slightly different packaging there. Can you talk about how the marketing and promotional events are being received in China?
John Fieldly: Yeah, the marketing and promotional event is working very well. We feel we have a, as you mentioned, a very unique packaging in country. It is popping on the shelves in regards to their overall energy sets and the overall products on-shelf, so we're very excited about that. We also are using technology in China to really leverage the CELSIUS brand, as well.
So, regard to our marketing programs, it's traditional trade, traditional advertising as well as digital sampling, hands in cans. One thing we're doing that's unique is we have a QR code tied to our–under our tap [sp], which is a promotional program where you can win a lot of different activities. You can win fitness equipment, you can win an instant rebate, and it's all tied to your WeChat account. It allows us also to data capture, understand who's consuming our product, who is our consumer, and then we're able to retarget them.
So, there's a lot of great insight in some of the marketing activities that we're doing, which we're excited about. So, we are executing. We're just in–really, the first quarter was the first quarter as we continue to roll out these marketing initiatives as we move into really summer beverage season and ultimately close distribution. We need to continue to execute. We need to continue to close those key accounts and further expand our penetration to really see the benefits of some of the overall-arching marketing programs as they take hold over the summer beverage season.
Anthony Vendetti: Okay, great. I'll hop back in the queue. Thanks, John.
John Fieldly: Thank you very much, Anthony.
Operator: As a reminder, if you would like to ask a question, please press star, one on your telephone keypad. As a reminder, if you would like to ask a question, please press star, one on your telephone keypad. One moment please while we poll for questions.
Our next question comes from the line of Jeffrey Cohen with Ladenburg Thalmann. Please proceed with your question.
Destiny Buch: HI, John and Vanessa. This is actually Destiny on for Jeff. How are you?
Vanessa Walker: Hi.
John Fieldly: Excellent, Destiny. How are you today?
Destiny Buch: I'm great, thank you. Both of my questions have been answered. I just have a couple follow-ups. For the BCAA that was launched in Finland and Sweden, could we potentially see a similar product in maybe the U.S. or the Asian markets? And then continuing on that thought, you said that you now have a pre-workout and a post-workout beverage. Are you seeing other gaps where maybe an additional product could fill?
John Fieldly: Yeah, thank you, Destiny. There's a lot of opportunity out there with our product and position. And really, when you look at overall-arching strategy is to really build out our portfolio of really proven proprietary or innovative products in our category. And when you look at the BCAA post recovery initial launch rolling out in the Nordics, it was a great pairing for our products. We have high ACV in market. We have a great brand presence, and it was very complementary. So, we're very excited about some of those initiatives on innovation.
In regards to innovation, we are looking at a variety of other opportunities as they come to us, and some are self created internally. Then we'll roll those out at the right time in regards to our overarching strategy.
I don't know, Vanessa, you want to mention any additional topics on–regards to that?
Vanessa Walker: Yes, I think–and thank you for your question. I think one of the finer points mentioned is that we have implemented a plan for innovation and–six pages, if you will, of key innovation and a way to evaluate, people are knocking on our door, do we want to go down the path of bringing people in and discussing ideas with people, do want to innovate from internally, does it look like new innovation, etc. So, there's plans in place. In fact, John and I just met regarding the topic this morning.
So, always keeping our eye on the Millennials, as we mentioned, keeping pace with the trends, understanding how to look forward and understanding what the core mission of our portfolio is, as John just mentioned.
So, with regard to your question on the BCAA's, in other country, it's possible. We're evaluating, and part of our launch plan for innovation is that final step, which is follow-up and evaluation. So, after tactical launch, we will continue to follow-up and evaluate whether the launch and the product met our criteria for success and if it's something that we would consider moving forward with in other regions, the U.S., Asia, etc.
John Fieldly: Excellent.
Destiny Buch: Okay, great. Thank you. My last question has a little bit more to do with the ambassador's program that you mentioned. I'm just curious what type of criteria you typically look for when picking those people. Is it like a social media presence [unintelligible] the brands and things like that? Could you provide little more color? Thank you.
John Fieldly: Excellent. Thank you, Destiny. I'll turn it over to Vanessa.
Vanessa Walker: Thanks, John.
Yes, so our initial criteria was everyone has to be over 21 years of age. The other criteria that we were looking for was social platforms – are they living a fit lifestyle, do they reflect the brand, followers, and also geography. We're a nationwide brand, and we're gonna continue to scale and expand nationally into multiple channels at multiple retailers. We want far and wide reach with the brand ambassadors. And we're also asking for enthusiastic people who are bringing a sense of credibility with them when they come to the brand so they can help us to passionately grow fan-base. Are they are personal trainer? Does that person have reach? Are they a sports enthusiast in some way? Are they an in shape mom, corporate executives that a weekend warrior? So, we're looking for a diverse group of people, and we are considering their social media platforms and how willing they will be to engage in the brands. That's really our criteria at this time.
Destiny Buch: Okay, got it. Thanks, again.
Vanessa Walker: Thanks.
John Fieldly: Thank you, Destiny.
Operator: As a reminder, if you would like to ask a question, please press star, one on your telephone keypad. One moment please while we poll for questions.
Ladies and gentlemen, we have reached the end of the question-and-answer session, and I would like to turn the call back to Mr. John Fieldly for closing remarks.
John Fieldly: Thank you. Our first quarter results demonstrates our products are gaining momentum as we are capitalizing on today's health and wellness trends. Our active healthy lifestyle position is a global position with mass appeal. We're building upon our core business and leveraging opportunities and deploying best practices. I'm very proud of our dedicated team, and I thank our investors for their continued support. Thank you, everyone, for your interest in CELSIUS, and have a great day.
Operator: This concludes today's conference. You may disconnect your lines at this time. Thank you for your participation.