FOR IMMEDIATE RELEASE
Investor Relations:
Cameron Donahue
(651) 653-1854
cameron@haydenir.com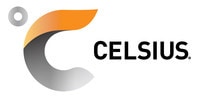 Celsius Enters Distribution Network of Anheuser-Bush and PepsiCo Distribution Partners
Boca Raton, FL (December 5, 2018) –Celsius Holdings Inc. (Nasdaq: CELH), maker of the leading global fitness drink, CELSIUS®, today announced that the company has secured distribution agreements with distribution partners in the Anheuser-Busch and PepsiCo, Inc networks.
"Growing demand for our proven fitness drinks continues to gain momentum as consumers and retailers align with today's health and wellness trends," commented John Fieldly, President and Chief Executive Officer. "We are excited by the opportunity to partner with such well-established distributors and align ourselves with strategic organizations who will further support our momentum and broaden our retail footprint into 2019. These collaborations further reinforce our strategy to increase placements of CELSIUS® products where our customers live, work and play, through a diversity of channels and geographic locations, including broadening our retail footprint in high-profile retailers and convenience stores such as Target, CVS, Wawa, and Kroger. We see great opportunity to leverage our partners' networks and drive further availability for our products."
With these new partnerships, Celsius now has distribution agreements with Great Bay Distributors, Double Eagle Distributing and Ed F. Davis, all within the independent Anheuser-Busch wholesaler network, as well as with Bernicks, Inc., which is within the PepsiCo network. In addition, the company has recently added five other distribution partners and is in further discussions with additional network partners as the company continues to build a national distribution network.
The new agreements increase Celsius' footprint covering areas that had limited distribution previously, allowing the company to service new stores with existing retail clients as well as penetrate new customers.
Jon McKillop, SVP of Sales, North America added, "Success of the CELSIUS® brand in 2018 has allowed us to open up multiple new DSD partners throughout the US, several of which are associated with the largest global beverage brands. Distributors are seeking brands that will perform in a rapidly shifting energy and functional category and Celsius fits that need perfectly. We look forward to our new partnerships with top flight DSD operators and will continue to expand into additional regions as we move into 2019. The future of the Celsius brand is extremely bright and the right distribution partnerships will be crucial to our continued success!"
About Celsius Holdings, Inc.
Celsius Holdings, Inc. (Nasdaq: CELH), founded in April 2004, is a global company with a proprietary, clinically proven formula for its brand CELSIUS®. Celsius Holdings, Inc. has a corporate mission to become the global leader of a branded portfolio consisting of proprietary, clinically proven innovations which offer significant health benefits. CELSIUS®' Original Line comes in eight delicious sparkling and non-carbonated flavors in sleek 12oz cans and is also available in single-serve powdered packets. CELSIUS®' Natural Line is available in six refreshing flavors and the line is naturally caffeinated and naturally sweetened.
New to the portfolio, trainer-grade CELSIUS HEAT™ offers an additional 100mg of caffeine over CELSIUS®, to total 300mg per can, and also contains 2,000mg of L-citrulline, a vasodilator. CELSIUS HEAT™ is sold in 16oz cans and is available in seven carbonated flavors. CELSIUS HEAT™ is a thermogenic pre-workout drink and targets professional trainers, competitive athletes, the military and first responders. CELSIUS HEAT™ was developed for those seeking a trainer-grade version of CELSIUS® versus the Original Line, which is sold in a smaller can package and appeals to the masses as an active lifestyle brand.
CELSIUS® has zero sugar, no preservatives, no aspartame, no high fructose corn syrup, and is non-GMO, with no artificial flavors or colors. The CELSIUS® line of products is Certified Kosher and Vegan. CELSIUS® is also soy and gluten free and contains very little sodium. CELSIUS® is sold nationally at fitness clubs, 7-Eleven, Sprouts, The Fresh Market and key regional retailers such as HEB, Publix, Winn-Dixie, Harris Teeter, Shaw's, Food Lion, CVS and many others.
CELSIUS®' functional claims are backed by nine published university studies. The first study was conducted in 2005 and additional studies from the University of Oklahoma were conducted over the next five years. The studies were published in peer-reviewed journals and validate the unique benefits that CELSIUS® provides. For more information, please visit www.celsiusholdingsinc.com.
###